Vision For Coaching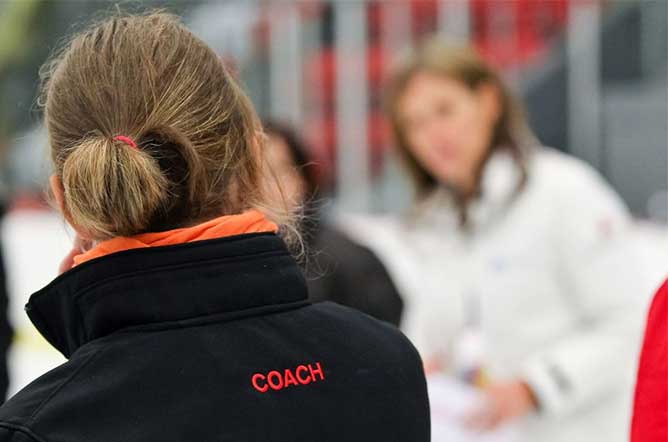 As Skate Canada Professional Coaches we believe coaching is a privilege earned through our commitment to:
Competently and professionally serving the athlete as a role model, teacher, coach, athlete manager, strategist, and volunteer.
Developing a well-rounded individual and creating a positive and safe sport environment that will promote physical development and well-being, mental development and positive self image, social skills development, creativity and artistic development, discipline, self-reliance and independence, and principles of fair play and good sportsmanship.
Providing quality service to and being accountable to the athletes, parents, clubs and schools, community, and Skate Canada.
Sharing knowledge with athletes, parents, coaching peers, clubs and schools, volunteers and Skate Canada.
Actively engaged in continuous improvement and education and overall professional development
Maintaining an open-minded attitude to new ideas and change.
Supporting the 2014-2018 Skate Canada Strategic Plan.
Conducting oneself in a manner that is befitting of a coaching professional and that is compliant with Skate Canada and ISU rules, regulations and policies.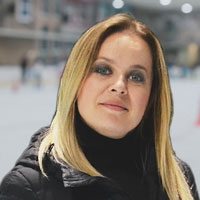 Anastasia Baikov
Director of Programming
Freelance and Club Program Coach
Level 3 certified, National Coach-Certified
ISPC (Intermediate Starskate/Provincial Coach)
Level 3 Certified
NCCP (Competition-Introduction – Provincial Coach)
Level 3 (singles portion completed)
Anastasia's love of figure skating began while watching Olympic Champions Maya Usova and Alexander Zulin perform at the arena where her father worked.  Her own skating career began at the age of five when she attended the renowned Spartak Figure Skating School of Olympic reserve; Then at age seven she was specifically selected to attend and train under the tutelage of world renowned coach Elena Tchaikovskaya at The Professional Ballet on Ice with which she toured all across Europe.  It is here that her love for dancing bloomed.  Upon her family moving to Israel, Anastasia continued to improve and compete, and eventually becoming Israeli National Champion in both Junior Dance and Junior Single events.
Her coaching career began in Montreal in 2004, at the club L'Acadie where she trained as a skater. She taught various Canskate groups initially and transitioned into private coaching in free style, skills and dance.  She has helped create and introduce various programs that over the years have helped develop a stream of competitive skaters.  She was the artistic director for the end of the year show and a head coach for numerous years.
Anastasia enjoys all disciplines of figure skating but she is especially drawn to beauty of ice dancing and the creation of beautiful choreography and dance routines.
Competition Career Highlights
1988-89 Finished in 1st place at the Regional festival of Youth Ballet on Ice of Moscow, Russia
1st place at the International Festival of Youth Ballet on Ice in Moscow, Russia
4th place at the International Festival of Youth Ballet on Ice in Grenoble, France
1994-5 2nd place at the National Championship of Israel (junior singles)
1995-6 1st place at the National Championship of Israel (junior singles)
1996-7 1st place at the National Championship of Israel in both junior dance and junior single
1996-7 4th place at the International Open Championship of Moscow (junior dance couple)

Michelle Popoff 
Freelance and Club Program Coach
NCCP Level 1 Certificate
NCCP Level 2 Technical Trained
Canpowerskate Certified Instructor
Michelle has over 30 years of coaching experience and also supervises the Learn to Skate program for the City of Richmond.  Before joining the Delta Skating Club, Michelle coached and competed for the Connaught Skating Club.  Many of her students have progressed into competitive skating and pursued hockey at a high level.  Michelle brings enthusiasm and high energy to every lesson!
My philosophy is "that from the recreational figure skater to those that dream of competing one day, I will give each and every skater 110%.  Love skating, whatever level you are or dream of being and I will do my best to guide you in attaining those goals!
Michelle will be coaching Club Programs and accepting students for Private Lessons.
Phone #778-384-5735
momattherink@shaw.ca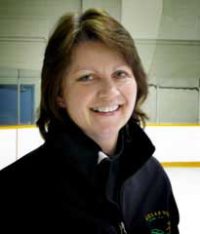 Melissa Tye 
Freelance and Club Program Coach
(778-839-1420)
NCCP Level 2 certified
NCCP Level 3 Technical
Current First Aid/CPR

Melissa has been coaching since 1992.  She has completed Gold Figure, Diamond Dances, Gold Free Skate, Gold Competitive Skating Skills, Gold Interpretive Dance, Novice Competitive Pair, USFSA Gold Dance, ISU Gold Dance.
In addition Melissa competed at the Junior and Senior National level in Ice Dance.
Melissa provides private lessons for skaters of all levels in all disciplines of skating and is Power-Skating Certified.
Melissa sums up her coaching philosophy as :
"I enjoy bringing my passion and knowledge of skating to individuals of all ages and abilities in a fun and safe environment. I believe a positive attitude makes such a difference.  As a coach, I strive to instill a sense of confidence and a good work ethic."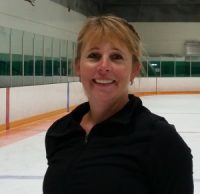 Jackie Christoff 
Freelance and Club Program Coach
Regional Coach Certified (Level 1)
CPS – CanPowerSkate Certified
First Aid Level 1
Achieved Gold Tests in Skating Skills & Interpretive
Jackie has been with the Delta Skating Club since 2002 as a Board Member, Program Assistant & Adult Skater.
Coach Synchronized Skating since 2010.
Competed in Synchronized Skating for over 12 years.
Jackie continues to skate for fun and competes in Freeskate, Artistic and Dance at Adult ISU competitions.
Accepting new students in the Star Skate Program – semi-privates or private lessons.
Phone: 604-250-4170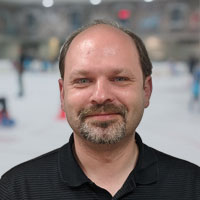 Pavel Baikov 
Freelance and Club Program Coach
Freelance and Club Program Coach
Lena Belousovski
Freelance and Club Program Coach
NCCP Level 1 Certified
CanSkate Certified
Lena has recently joined the Delta Skating Club as a coach but she has been coaching for several years.
Lena previously competed for Ukraine in the 1994 Olympics
She is accepting new students in the Star Skate Program – semi-privates or private lessons.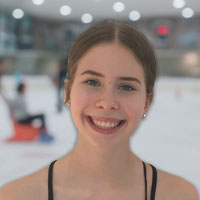 Sara Morrow  
Junior Coach
CanSkate Certified
Emergency First Aid
Sara is our youngest coach at 17 years old.  She has been involved as figure skater and with the Delta Skating Club for over 10 years.  Competing as both a solo skater and a synchronized skater.
Sara sums up her coaching philosophy as :
"My experiences and struggles as a skater have taught me so many life lessons that I hope to teach my students.  I teach skaters great techniques in a fun, friendly, inclusive manner.  Teaching kids in a positive constructive way will not only better the skaters skills but will also leave the skater feeling hopeful, happy and encourage a positive skating experience."