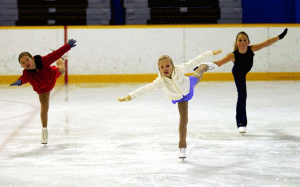 The Delta Skating Club Junior Development Program is for skaters that have passed CanSkate Stage 3 with an interest in figure skating.
Junior Development is the next stage for skaters to bridge the gap between CanSkate group lessons and the StarSkate Program. The JD program will allow a more in-depth experience where skaters will work on the completion of CanSkate stages and will be introduced to figure skating disciplines such as skills, freeskate and dance. The JD program also includes Off ice program.
Skaters at the Junior Development level are expected to skate twice/week which promotes quick progress. Each session includes Dryland and ON Ice group session. Session includes all ice and coaching fees. JD is offered four times/week for the 2017-2018 season on Monday and Wednesday at Ladner from 3:30 -5:00 pm (3:30 – 4 – Off ice, 4:15 – 5 ON ice), Friday at SDRC 3:30 – 5:15 (3:30 – 4:15 ON ice, 4:30 – 5:15 Off ice) and Saturday at SDRC 9:45 – 10:30 – No Off ice.
It is important that skaters in the Junior Development program wear proper skating attire.
Once skaters reach Stage 6 or display a readiness to move on to a private/semi private/small group format, they will advance to the StarSkate program.