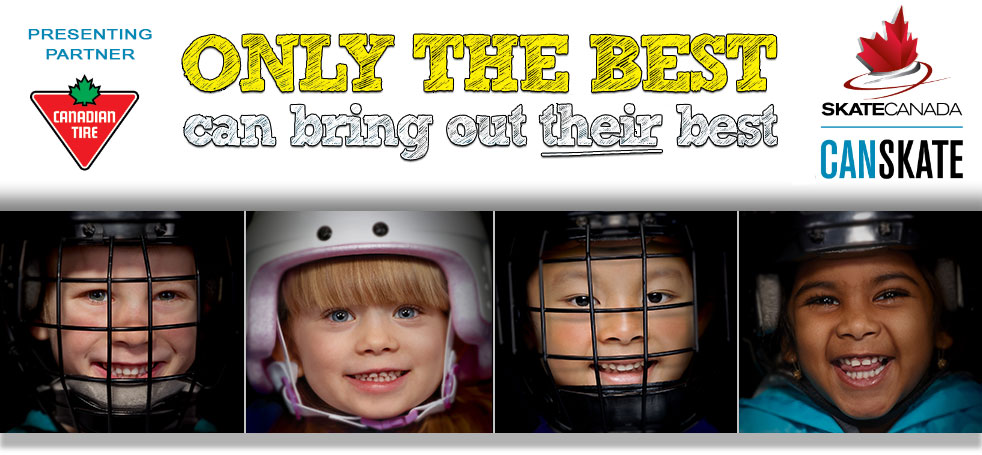 A new improved Canskate program has been designed based on Sport Canada's Long Term Athlete Development (LTAD) principles.  New features include a fresh new look.  The new program includes specific skills that pertain to hockey, ringette, speed skating and figure skating.  The result is a dynamic new program that prepares all skaters for virtually every ice sport.
Skate Canada CanSkate Program
CanSkate is Skate Canada's flagship learn-to-skate program, designed for beginners of all ages. When you sign up for CanSkate you will be in a program that focuses on fun, participation and basic skill development.  Lessons are given in a group format and led by an NCCP certified professional coach. Professional coaches are assisted by trained Program Assistants.  Coaches make sessions active using teaching aids, music and a wide variety of activities that create a fun environment and promote learning.  Skaters earn badges and other incentives and progress at their own rate.   CanSkate is the feeder program to all other Skate Canada Skating Programs.
(Information courtesy of Skate Canada – www.skatecanada.ca)
PRE-CANSKATE PROGRAM: Ages 3 and older
Our Pre-Canskate program is for children that have never skated before or who are not confident on the ice.   The lessons are 45 minutes in duration with a "Skate Canada Certified Professional Coach" with the goal of having a ratio of 3-4 skaters to 1 Coach or Skate Canada Trained Program Assistants. Our young skaters learn in an energetic fun environment to music and skating aids, with the goal of having fun, while learning how to become comfortable on the ice and taking those first strides.  Pre-Canskaters work on essentials needed to move safely and effectively on the ice.  There are eight basic skills designed to ready them for the Canskate program:  Balance on 2 feet, Fall down and get up, Move forward, Move Backward, March around the spot, Make snow, Jump on the spot, 2-foot twist on the spot.  As soon as skaters are ready they will be moved to the main stream Canskate program.
CANSKATE
Canskate introduces young skaters to the fundamentals of skating;  Balance, Control and Agility, organized in 6 stages. The lessons are taught in a fun, energetic atmosphere promoting continuous movement to music, with lots of rewards and incentives with our "Skate Canada Certified Professional Coaches" (ratio 10:1) with assistance by our trained Program Assistants.  Lessons are 45 minutes in duration on  Monday & Wednesday at Ladner Leisure Centre and Thursday, Friday or Saturday mornings at South Delta Recreation Centre.  It is recommended that Skaters register for 2 lessons per week for continual development throughout the year.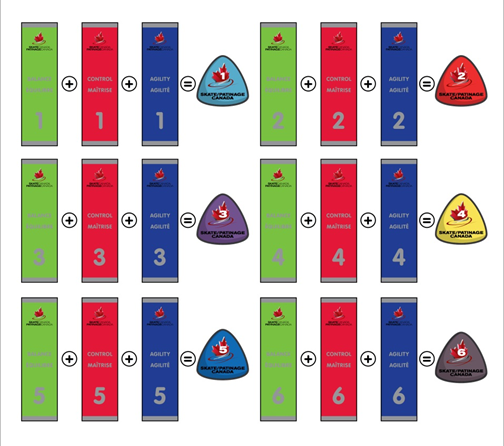 Equipment:
All Canskate participants up to and including Stage 5 must wear a CSA Hockey Helmet and all skaters must have their own skates. Skate Rentals are not available during any of our sessions.
What's after Canskate?
Skaters can stay in Canskate to continue to refine their skills or choose one of our other programs for figure skaters, hockey or ringette players.  Once Canskaters complete Stage 3 they may be invited to join our Junior Development Program for those skaters that would like to develop as figure skaters and work towards the Skate Canada STARSkate program or our Powerskating Program for hockey and ringette players.