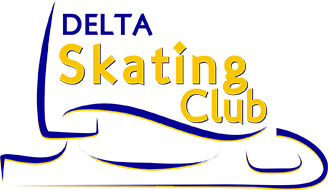 Learn to Skate

CanSkate is Skate Canada's flagship learn-to-skate program, designed for beginners of all ages. When you sign up for CanSkate you will be in a program that focuses on fun, participation and basic skill development. Lessons are given in a group format and led by an NCCP certified professional coach. Professional coaches are assisted by trained Program Assistants. Coaches make sessions active using teaching aids, music and a wide variety of activities that create a fun environment and promote learning. Skaters earn badges and other incentives and progress at their own rate. CanSkate is the feeder program to all other Skate Canada Skating Programs.
Return to Skating
Volunteering
The Delta Skating Club has been serving the community of Delta since 1959!
The Delta Skating Club is a Skate Canada Sanctioned Club and is registered as a non-profit society (B.C. Societies Act). The club is managed by a Volunteer Board of Directors, with volunteers participating on several committees and performing various roles within the club and programs.
We offer a professional coaching staff that is dedicated to helping skaters succeed in meeting their skating goals, while making the experience fun and enjoyable.
Delta Skating Club is proud to offer an extensive list of programs for all levels of skaters (beginner, recreational, competitive) and all areas of skating including synchronized skating and power skating. We endeavor to provide skaters at every level an opportunity to develop and expand their skating skills. To explore all our programs, click on programs above.